| | |
| --- | --- |
| Enable Wake-on-Lan Windows 10 and Windows 11 | Feb-02-2022 | |
Wake-on-Lan on Windows 10: A complete guide in 8 steps
Here are detailed instructions on how to enable Wake-On-Lan (WOL) on Windows 10 / Windows 11.

You can easily see whether a computer can be woken up by looking at the small LED directly at the plugged network cable. This must blink when the computer is shut down. However, this is a basic requirement and is not sufficient on its own. If the LED does not blink, it will blink at the latest when you have performed these 8 steps:

1. BIOS SETTINGS
WOL must be enabled in the BIOS in any case. However, this is not enough for certain computers. For Fujitsu, for example, LPSO (Low Power Soft Off) must be disabled - then restart again. Thus, every manufacturer still has its peculiarities.

2. NETWORK CARD --> POWER MANAGEMENT
This can be found in the Device Manager / Network Adapters / Properties of the network adapter / Power Management. All three checkboxes should be set here.

3. DISABLE FAST STARTUP
Under Windows 10, Fast Startup must be disabled. Here's how to do it: https://docs.microsoft.com/en-us/troubleshoot/windows-client/deployment/wake-on-lan-feature

4. NETWORK ADAPTER --> ADVANCED
You can find it in Device Manager / Properties of the network adapter / Advanced. There must be something about WOL here. If not --> install the latest network adapter driver from the manufacturer. With Intel network cards, for example, there is the item "Act. via Magic Packet". This must be "activated".

5. NETWORK CARD --> ENABLE PME
Especially for Intel network cards PME must be enabled.

6. NETWORK
The network must be specially configured if the wake-up PC and the PC to be woken up are in different subnets. This is well explained here, for example: Wake on Lan other subnet

7. SWITCH SETTINGS
The switch port must not be set to 1000 Mbit/s., because the network cards often switch down to 10 or 100 Mbit while waiting for connection. It is best to set it to "Auto".

8. SHUTDOWN
The PC should always have been shut down cleanly. It is better to boot up once more and shut down again when testing - especially after configuration changes. Also, a PC that had no power for a short time often cannot be woken up.
Newer USB-TYP-C docking stations are probably a bit problematic. There are various problems with Wake-On-Lan. More details will be available shortly.


FREE WAKE-ON-LAN TOOLS
For waking up there are tools like the free Wake-On-Lan tool PingTool (http://www.ping-tool.com). This can be used to wake up computers via GUI or via command line with wol.exe. The tool named "WakeOnLanTool" is a Wake-on-Lan tool (freeware) for organizations (http://www.wake-on-lan-tool.com).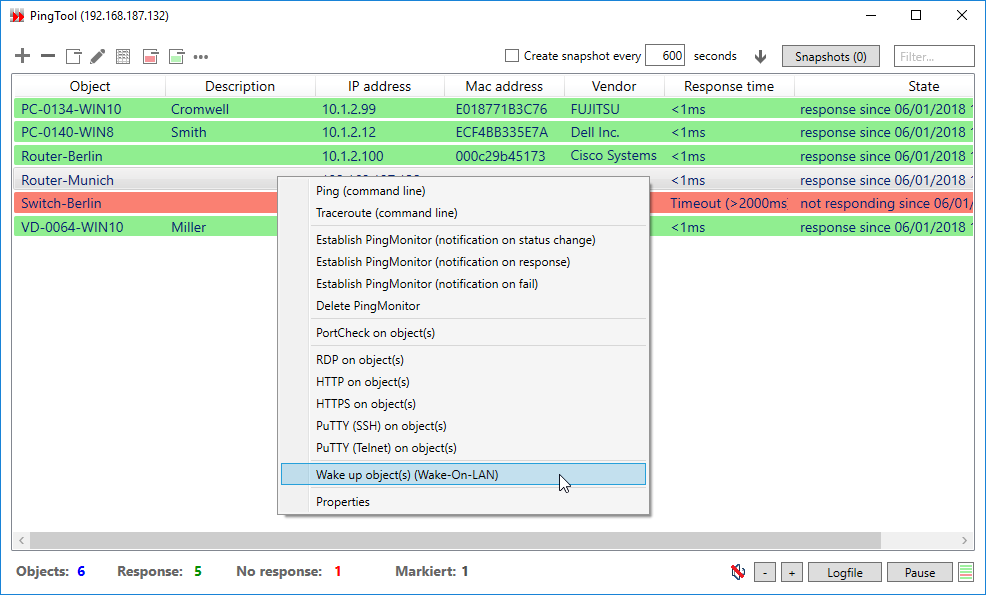 PingTool 2.0: A Wake On Lan tool (freeware) for administrators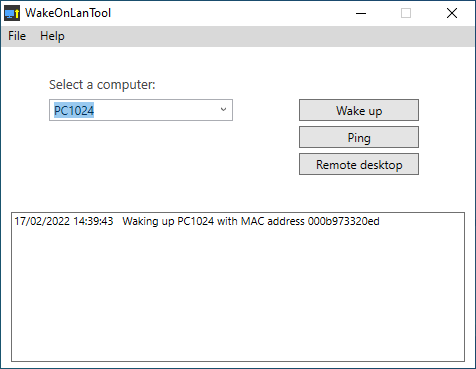 WakeOnLanTool 1.1: Easy to use Wake-On-Lan Tool for standard users